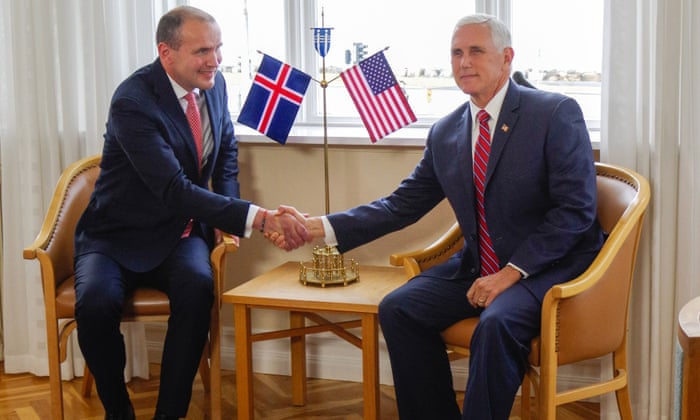 Well done Iceland. How woke to stoop to childish antics and show open disrespect to the deputy leader of the most powerful nation in the world. Do the Icelandic president and corporations honestly believe that trolling Mike Pence (regardless of his personal beliefs) with rainbow flags and bracelets will somehow make him change his views or persuade those that support him to abandon him? So the way to show the moral high ground is to seek to diplomatically humiliate.
Here is betting that the Icelandic leadership and business community don't fly the rainbow flag when dignitaries from Pakistan, Guyana, Saudi Arabia, Iran, Myanmar, Brunei, Malaysia, Indonesia, Sri Lanka or Egypt visit, a small selection of countries that criminalize LGBT activity, unlike the US. Of course, Iceland has received glowing accolades for the stunt on Twitter which probably speaks volumes of credibility. This is what cowardice looks like.
Human Dignity Trust lists the following stats with respect to the criminalisation of LGBT people.
72 jurisdictions criminalise private, consensual, same-sex sexual activity. The majority of these jurisdictions explicitly criminalise sex between men via 'sodomy', 'buggery' and 'unnatural offences' laws. Almost half of them are Commonwealth jurisdictions.
44 jurisdictions criminalise private, consensual sexual activity between women using laws against 'lesbianism', 'sexual relations with a person of the same sex' and 'gross indecency'. Even in jurisdictions that do not explicitly criminalise women, lesbians and bisexual women have been subjected to arrest or threat of arrest.
12 jurisdictions in which the death penalty is imposed or at least a possibility for private, consensual same-sex sexual activity. At least 6 of these implement the death penalty – Iran, Northern Nigeria, Saudi Arabia, Somalia, Sudan and Yemen – and the death penalty is a legal possibility in Afghanistan, Mauritania, Pakistan, Qatar and UAE. Executions have been reported in ISIS-held territory in Iraq and Syria in recent years.
15 jurisdictions criminalise the gender identity and/or expression of transgender people, using so-called 'cross-dressing', 'impersonation' and 'disguise' laws. In many more countries transgender people are targeted by a range of laws that criminalise same-sex activity and vagrancy, hooliganism and public.
Iceland trades with many of these anti-LGBT countries. Perhaps Iceland should put an embargo on those nations. Why not ditch 6.8% exports and 5.8% imports with the US if they feel such abhorrence against America?
Here is a picture of Ambassador of Sri Lanka to Iceland, Prof. Arusha Cooray with President Gudni Thorlacius Johannesson of Iceland. Sri Lanka a country that can imprison someone of LGBT background for 10 years. Maybe corporate Iceland didn't get the memo to fly LGBT flags? Ambassador Cooray and President Jóhannesson discussed the potential for increased collaboration between the two countries in the areas of tourism, fisheries, tea, arts, culture and sports. Wait, no discussions on LGBT Mr President?
The greater irony is that Mike Pence's boss has openly advocated that nations which criminalise LGBT seek to repeal such human rights violations.
And yes, President Trump is hardly the high watermark as goes diplomacy. That doesn't mean two wrongs make a right.