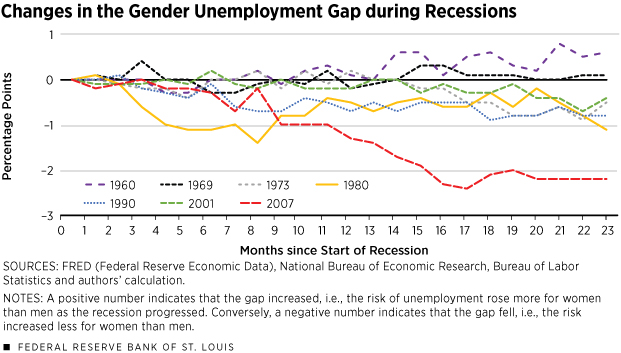 Another interesting piece was written by the St Louis Fed showing the gender unemployment gap of men relative to women. A negative spread shows that women have lower risk of unemployment relative to men in the 24 months after the start of a recession. Looking at the chart we see that in 1960 & 1969 female unemployment tended to rise relative to men after a recession began but in the following downturns of 1973, 1980, 1990, 2001 and 2007 the situation reversed. Participation rates for women in the workforce hovered at around 40% in 1970 vs 60% today. In 2007, the most aggressive spread emerged in favour of women by over 2%. The Fed report does not include what types of roles that women tend to do. Switching to the Bureau of Labor statistics (BLS) it makes sense that women over time have been retrenched at lower rates than males due to field of employment.
Women today tend to occupy more jobs in education, nursing, healthcare (defensive industries) whereas men tend to work in more construction, agriculture and manufacturing specialties (levered industries).
In 2017, employment breakdown between men and women was as follows.
Another interesting table from the BLS was that of educational standards of 1970 compared to 2010. As we can see more women are pursuing higher levels of education. 67% in 2010 took some college or higher degree vs only 22% in 1970. One would imagine in 2018 those numbers are higher again.
Where men once went to college in proportions far higher than women—58% to 42% as recently as the 1970s—the ratio has now almost exactly reversed with women comprising more than 56% of students on campuses nationwide, according to the U.S. Department of Education (DoE). Some 2.2 million fewer men than women will be enrolled in college this year. By 2026, 57% of college students in the US will be women.
It will be interesting to see how the gender unemployment gap develops during future recessions with a far higher level of educated women in the workforce.